Publications in 2020
The Netherlands Commission on Genetic Modification (COGEM) issued a record number of 87 publications (85 advisory reports and 2 policy reports).
The large number of publications is due to the large number of requests for advice on permit applications; 94% of the advisory reports were issued in response to requests from the permit-granting authority.
The majority (54) of the publications were prepared by the COGEM Subcommittee on Medical and Veterinary Aspects (ScMV). The Subcommittee on Agriculture (ScL) was involved in 31 advisory reports. The Subcommittee on Ethics and Societal Aspects (ScEMA) produced one publication in 2020.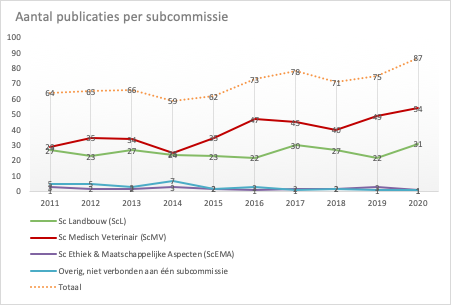 Advisory reports
Of the 54 advisory reports prepared by the Subcommittee on Medical and Veterinary Aspects, 35 concerned applications for authorisation under contained use, 8 concerned clinical studies involving genetically modified organisms (GMOs), and 11 concerned marketing authorisations for gene therapies and vaccines.
The current coronavirus pandemic is reflected in the advisory reports that were issued. 13 of the advisory reports (about 24%) issued in 2020 were related to research on and testing of SARS-CoV-2 vaccines. In addition, an advisory report was issued regarding research on a MERS-CoV vaccine. The usual research activities also continued in 2020; ten of the advisory reports concerned pathogenicity classifications of viruses and micro-organisms that had not previously been used in research in the Netherlands.
Cultivation and field trials with genetically modified (GM) crops do not take place in the Netherlands. However, experiments involving GM plants do take place in greenhouses and laboratories, often for the purpose of fundamental research. This is also evident from the advisory reports prepared by the Subcommittee on Agriculture. Most of them (17) were about containment requirements for GM plants in greenhouses and pathogenicity classifications of micro-organisms. In addition, there were 2 requests for advice from the Human Environment and Transport Inspectorate (ILT) regarding enforcement practices. There were ten requests for advice on import authorisations for GM crops, including applications for renewal of GMO authorisations. EU import authorisations must be renewed after 10 years, which means that the number of renewal applications will increase in the coming years.
No (major) policy reports were completed in 2020. However, a number of policy reports are being prepared, including a policy report requested by the Ministry of Infrastructure and Water Management on 'the elements that can play a role in the decision (regarding a GMO authorisation) to assess whether there is an acceptable risk for medical applications'.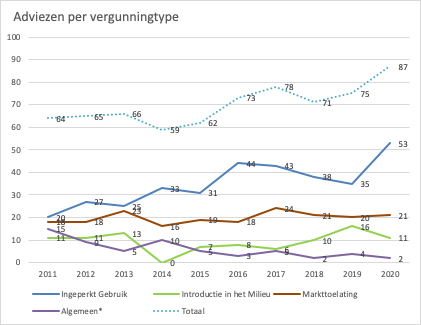 Research programme 2020
COGEM commissions research from third parties to support its tasks related to advice and policy. External research projects alleviate the pressure on COGEM, make it possible to identify trends at an early stage, and make it possible to obtain experimental data (on a small scale). 4 research reports were published in 2020, 3 of them in English.
The research report entitled The COGEM formula revisited. Experimental validation of the reduction ratio formula for free lentiviral particles reviews the COGEM reduction ratio formula used to determine the presence of free lentiviral vector particles in transduced cell suspensions. This formula is also used in calculating the Europe-wide generic environmental risk assessment of gene therapy studies with genetically modified cells transduced ex vivo using viral vectors.
In discussing new breeding technologies in relation to current GMO legislation, the European policy discussion needs insight into the extent to which the hereditary modifications that are introduced stay within the range of natural variations of the plant species. COGEM has therefore commissioned a research project on what changes occur naturally in plant genomes: 'The plasticity of plant genomes – Causes and consequences: a survey of data on structural genome variation in plants'
The Human Environment and Transport Inspectorate (ILT), which monitors compliance with GMO regulations in the Netherlands, asked COGEM for advice on measures to be taken in the event of possible future incidents involving contamination of seed with unauthorised GM seeds, and which methods are most suitable for destroying unauthorised GM plants (especially in fields) and other unauthorised GM plant material. The research report entitled 'Plant material inactivation: How to eliminate seed and plant lots commingled with non-authorised GM material' discusses the advantages and disadvantages of the various methods currently available.
Changes in composition
In February, COGEM was dismayed to hear of the death of one of its members Gerrit Meester PhD, professor emeritus, was a highly valued member of COGEM who made major contributions to the activities and publications of the Subcommittee on Ethics and Societal Aspects. His keen intellect and congenial personality will be sorely missed.
Dr Nico van Straalen, professor emeritus, stepped down as of 31 December 2020. He chaired the Subcommittee on Agriculture and was a member of the Executive Board. He was succeeded by Professor Theo Elzenga (University of Groningen).
COGEM welcomed three new external members in 2020: Prof. Martina Cornel MD, PhD (Amsterdam UMC) and Prof. Tsjalling Swierstra PhD (Maastricht University) have joined the Subcommittee on Ethics and Societal Aspects, and Dr Caroline Visser (Amsterdam UMC) joined the Subcommittee on Medical and Veterinary Aspects.
COGEM Secretariat
The COGEM Secretariat has undergone a number of changes in the past year. Adrienne Box and Maria Koster stepped down, while Ilse Boekhoud and Eveline Ultee joined the team. Ruth Mampuys has been seconded to the Netherlands Scientific Council for Government Policy (WRR) since December 2020.
Categories
Advisory reports can be categorised according to the field and subcommittee that prepared the report, and according to the type of permit applications involved in the advisory report: 'Contained Use', 'Deliberate Release into the Environment', and 'GMO Market Authorisations'. 'Contained Use' involves experiments that take place in laboratories, animal houses or greenhouses and so on. 'Deliberate Release into the Environment' covers all permit and authorisation applications involving experiments with GMOs outside of containment, such as field experiments and gene therapy trials. 'Market Authorisations' are permits for commercial activities with GMOs. Permits for contained use and deliberate release into the environment are considered national affairs; in the Netherlands, such authorisations are granted by the Ministry of Infrastructure and Water Management or by the mandated national competent authority for GMO assessment, Bureau GGO. Market authorisations are centralised EU procedures. A market authorisation issued in any member state is therefore valid for all EU member states. The authorisation procedure for import or cultivation of GM crops goes through the European Food Safety Authority (EFSA), and the authorisation procedure for medicines through the European Medicines Agency (EMA). The EMA authorisation procedure is completely confidential, including which GMOs or substances are involved. COGEM advisory reports on these procedures are therefore not published.
COGEM consists of a maximum of forty members (including external members). The twenty members and the chair of COGEM are appointed by the Minister of Infrastructure and Water Management. The external members are appointed by the COGEM Executive Board. The members are appointed in a personal capacity. The expertise of the COGEM members reflects the broad scope of the commission's work.
The work of COGEM is carried out in three subcommittees:
Subcommittee on Agriculture
Subcommittee on Medical and Veterinary Aspects
Subcommittee on Ethics and Societal Aspects
External experts are consulted on specific issues as needed. COGEM is supported by a professional secretariat based in Bilthoven. Contact with the relevant government bodies is maintained by official representatives.