Advisory reports
In 2021 COGEM issued 81 advisory reports. Only once before has COGEM issued more advisory and policy reports in a single year, in 2020 (87 reports). More than half of the advisory reports issued in 2021 (44; 54%) were prepared by the Subcommittee on Medical and Veterinary Aspects (ScMV). The Subcommittee on Agricultural Aspects (ScL) was involved in the preparation of 34 advisory reports. Three reports were prepared jointly by ScMV and ScL. No reports were published under the auspices of the Subcommittee on Ethics and Societal Aspects (ScEMA) in 2021.
In the Netherlands three types of consent are given for activities involving genetically modified organisms: contained use, for experiments held in laboratories, animal houses or greenhouses, etc.; deliberate release, for experiments with genetically modified organisms (GMOs) outside containment areas, such as field trials and gene therapy trials; and authorisation for placing on the market, for commercial activities involving GMOs. Of the remaining reports, 14 (17%) were on applications for deliberate release into the environment and 21 (26%) concerned authorisation for placing on the market of GMOs. The deliberate release applications were mostly for clinical trials (gene therapy). The three advisory reports prepared by the Subcommittee on Agricultural Aspects concerned large-scale production activities involving the use of genetically modified (GM) cyanobacteria. These licence applications were made for deliberate release because the possibility of GM cyanobacteria being released from the production facility cannot be ruled out.
Two thirds of the reports on authorisation for placing on the market concerned applications to import GM crops. The others were for the authorisation of GM medicines and GM vaccines. The Subcommittee on Ethics and Societal Aspects did not issue any policy reports during the past year. Two policy reports took longer to complete than anticipated. In response to a question from the Ministry of Infrastructure and Water Management, the subcommittee is working on a report on the elements to be considered when determining whether the risks associated with a medical use of GMOs are acceptable or not. The Genetically Modified Organisms Decree provides for the option of issuing a permit not only when the risks are negligible, but also when they are considered to be acceptable. However, the Decree does not specify what is acceptable and which elements should be taken into consideration. The second policy report concerns the costs and benefits of gene therapy, and if and how the government should make preparations for a possible flood of gene therapy applications. Both reports will be published in the course of 2022.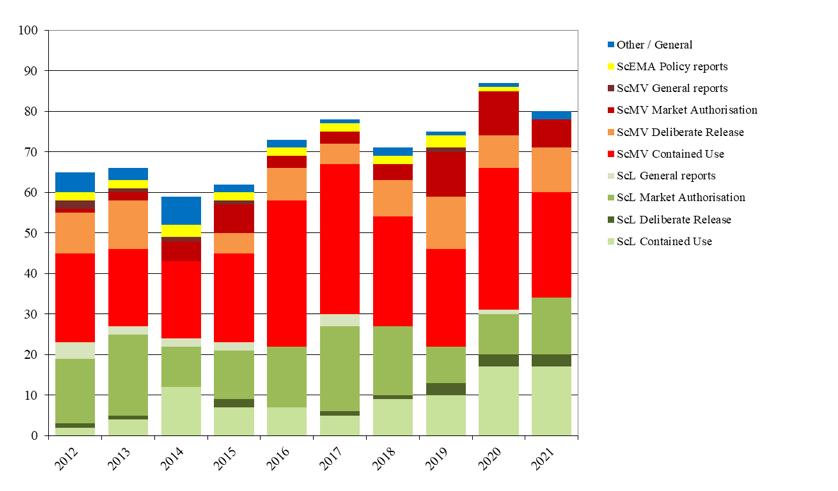 Research reports
COGEM commissions research by third parties to support its work. As a result of altered working arrangements and organisational changes made during the Covid crisis, fewer research projects were commissioned or carried out than usual. Nevertheless, two research reports were published in 2021. The first concerns field studies to support COGEM's advice on monitoring obligations when importing and processing GM oilseed rape in the Netherlands. The second research report is a literature study in response to a trend that came to COGEM's attention, namely an expected increase in requests to assign algal and cyanobacterial species to a pathogenicity class.
Members
COGEM consists of no more than 40 members and associated members divided across three subcommittees. The 20 members and the chair are appointed by the Minister for the Environment. The associated members are appointed by the COGEM Executive Board.
The following members and associated members stood down in 2021: Dr Simone van den Burg, Dr Willem-Jan de Kogel, Prof. Jeroen Kortekaas, Prof. Nico van Straalen, Dr Sjaak Swart and Dr Caroline Visser. COGEM extends its warm thanks for their efforts and for all the valuable work they have done for the Commission. COGEM was pleased to welcome four new (associated) members in 2021: Prof. Marianne Boenink, Dr André Krom, Dr Leni Duistermaat and Dr Miquel Ekkelenkamp.